Our Entrepreneur-in-Residence program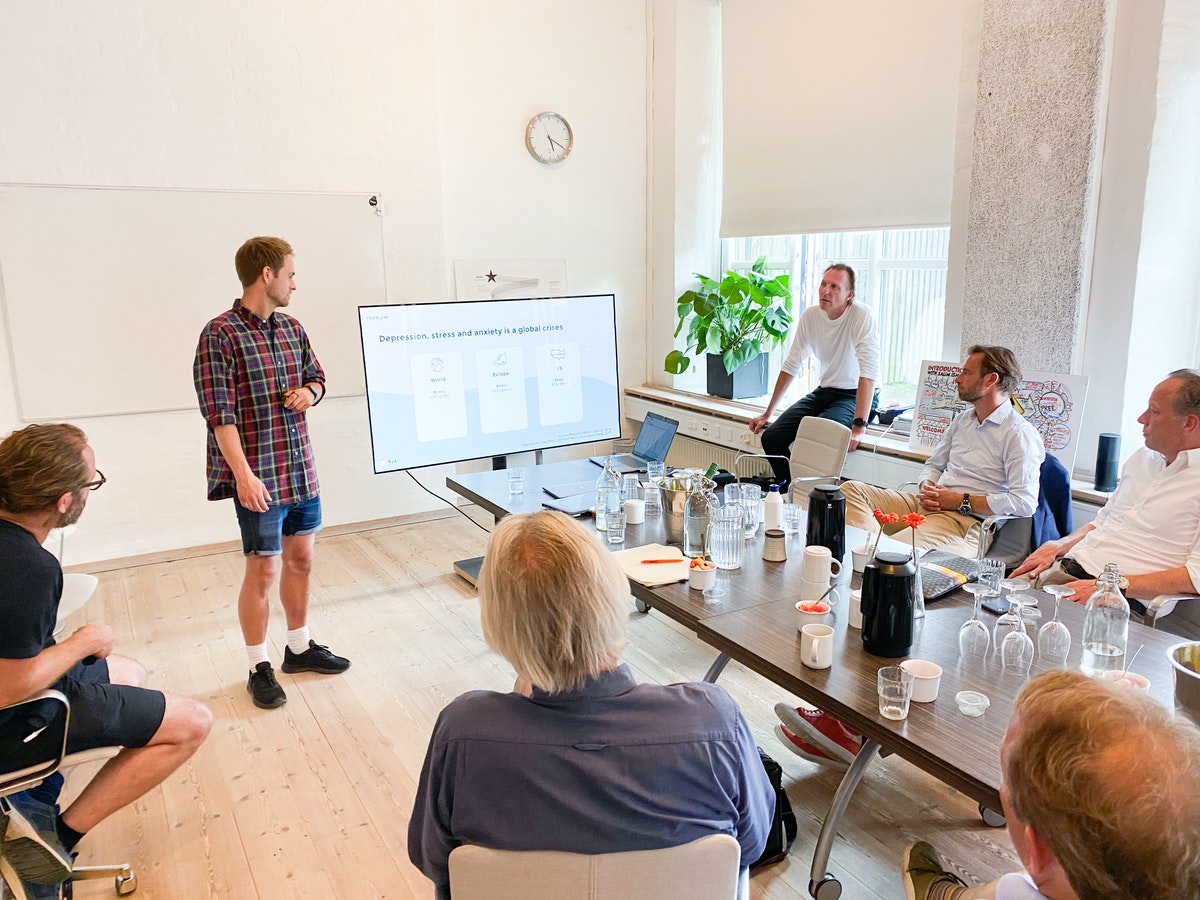 Main points: 
KRING is a venture studio that build startups from scratch

Entrepreneur-in-Residence is someone who join us and experiment with ideas before we form a company 

Experimenting with ideas means that we validate critical aspects of the business model before we form a company

In the Entrepreneur-in-Residence program, you join a venture building team, get access to resources, tools and follow our Speedbooting

TM

processto understand a problem and test an idea without having to worry about funding, salaries, accounting, and other practicalities.

We are looking for Entrepreneurs-in-Residence with various backgrounds; earlier entrepreneurs, Techies, health/energy experts, management consultants, etc. 
What is KRING? 
We call ourselves a venture studio but it could also be called a venture building studio, startup studio, startup lab. Long story short – we build new companies from scratch, and then we invest in their growth. We have two focus areas: health/well-being and sustainable energy.  Before we form our companies we work through a proven process of understanding customers problems/needs and experimenting with ideas to validate their potential. We have recently done this with companies like Bodil, Welldium, and Nuna

Our SpeedbootingTM process for a project that turns in to a startup/company is basically: 
Problem validation – understanding the problems and needs of the customers. 

Experiment with an idea – validate that our idea solves a need 

Market validation – validate that there's customers willing to pay for that potential solution

Build an MVP / MLP – start making a product / startup that customers loves and use

Make it grow – Experiment with growth hacking to find the most efficient way to make the company grow
It is typically around the MVP stage that a company starts to form, but before that it is "just" a project. KRING hires Entrepreneurs-in-Residence to experiment on these project together with our venture building team and potential corporate co-creation partners. Our core team have competencies in design thinking, UX/UI, Lean startup, and product development. If the project turns out to be a fruitful business idea worth starting, the Entrepreneur-in-Residence turns into the Co-founder once the company (project/startup) is legally formed.

KRING's unfair advantage is ourextensive network within corporate innovators and in the C-suite that enables us to provide value and build successful impact ventures. This means, that sometimes we find a corporate company who is willing to experiment together with us, and they give us possibilities to test our value propositions with their potential customers and/or their extended network.
Entrepreneur-in-residence, what is that?
Someone dreaming of becoming an entrepreneur while working alongside our core team on experimentation and validation of a concrete project/idae before turning it into real company.Someone who have the entrepreneurial drive and motivation but no concrete idea OR someone who have an idea within health or energy, but don't feel like taking the leap on your own.

– Or –

Someone dreaming of becomming a Co-founder of their own startup backed by a venture studio.
What does it mean to be experimenting with- and validating an idea? 
It is not always a straight forward process. It is an iterative process where we test and learn, as much as possible before we invest and start building the actual company. Sometimes we kill our projects, because we learn that we can't solve the problem and/or the customers are unwilling to pay enough to make it a profitable business. Sometimes we pivot to another kind of solution or focus.. No matter what, welearn alot about these opportunity spaces and keep improving our process and method. 
What is it like to join the Entrepreneur-in-Residence program?
You join us to experiment with a problem and an idea for a solution. It typically takes 3-8 months to get to the point where we have an actual startup that are delivering value to customers. KRING coversall costs during the experimentation/validation period which makes it easier to focus on actually experimenting, learning and building a company with out having to fundraise at the same time. We provide you with proven tools, methods and competencies from our playbook and SpeedbootingTM  process as well having our venture building team as co-workers to guideyou through the process. It is like starting your own business but with an environment that actually makes it possible without you having to work two jobs, risk all your savings on an idea, or getting gray hair before you've launched your product. 
Once we founded the company and build the MVP you can become a Co-founder of the startup we have experimenteted with which involvessigning a shareholder agreement. After the company is founded,KRING's venture building team is still involved (if needed) in helping the company grow, forming the Co-Founder Team, find the right board, manage your budget, strategy sessions, investment management, recruitment & HR, accounting and much, much more..
We are located in the Copenhagen, Østerbro and beside experimenting throughout the day, we experiment with different formats of knowledge sharing events, open friday bars, work-cations, investor mingles, social exercise, and work dinners.
What qualities are we looking for in our  Entrepreneurs-in-Residence? 
At KRING, we seek those who are inspired and driven by the challenges of our society. Furthermore, we're looking for profiles who match one or more of the options below:
The Experienced Entrepreneur.


You've founded a company before and are looking for help to identify and launch your next opportunity.

The Entrepreneur in Consulting Clothing


ou've "done your time" as a management consultant and are looking to put your analytical skills and expertise towards a mission of your own.

The Person-Behind-the-Person


You've seen what it takes to build a startup as an early employee and are eager to build an impactful startup yourself. 

The Health & Wellbeing or Energy expert


You're have deep knowledge within Health/well-being or sustainable energy with a professional background within the field from research, industry, or practice (Doctor, Pharmacist, Nutritionist, Psychologist, wind engineer etc.) 
How do I apply?
Sign up for our Entrepreneurs-in-Residence / Co-founder database below, to hear more about our our upcoming projects/ideas.